Welcome to Best Western Johnson City Inn
The Wild West is still in full effect near our Johnson City, TX hotel, with riding available at LBJ Ranch and endless hiking trails at Pedernales Falls State Park.
Of course, some of our guests come from around the state just to visit Whittington's Jerky. Even those in town for a meeting with Pedernales Electrical Company can't help but indulge in a little leisure, sightseeing and sampling of the great Texas barbeque in the region.
No matter what brings you to this part of the Lone Star State, get your day started right with a free, hot breakfast that includes your favorites such as waffles and Arabica coffee. We're centrally located between Austin, San Antonio, Fredricksburg and Marble Falls, making commutes as easy as possible. For gastro enthusiasts, our hotel in Johnson City, TX is within walking distance to dining, and there's a BBQ pit and picnic area right on site. From pig roasts to mom and pop diners, food is serious business here.
There are also events year-round that are family-friendly, such as the Spangle Dangle and the annual Fair and Rodeo. Visit for the Light Spectacular, or stay in our comfortable, quiet rooms while here for one of the many fun runs throughout the year. Employees of LBJ National Park Services count on us to be their home away from home, and southern hospitality is our specialty. Maybe it's a meeting at the jerky company that brought you here, but it's the attractions and service that turn any business trip into a vacation.
As the proud hometown of Lyndon B. Johnson, our Johnson City, TX hotel is close to a number of historical attractions. Of course, a trip to the Exotic Petting Zoo is also a real treat. What do you have on the itinerary for your next trip? For any recommendations or tips, just ask one of our friendly staff members. There's always plenty to do and see, and we'll help you make the most of your time here.
Guest Rooms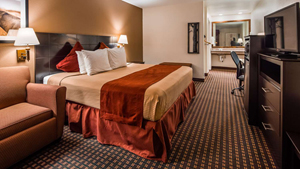 Hairdryer, Coffee Maker, Non-Smoking, Iron And Ironing Board, Microwave And Refrigerator, High Speed Internet Access, Continental Breakfast
Hairdryer, Coffee Maker, Non-Smoking, Iron And Ironing Board, Microwave And Refrigerator, High Speed Internet Access, Continental Breakfast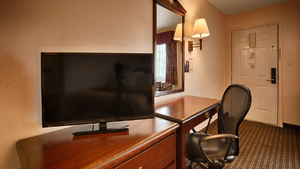 Non-Smoking, Bathtub, Mobility Accessible, Continental Breakfast